A single 1 ounce serving of Tespo Clear provides you with 100mg of caffeine per serving, plus it's packed with vitamins like B12, Niacin, and B6 for cognitive function.*

We've also added FloraGLO® and OptiSHARP® which help reduce eye fatigue and eye damage associated with blue light.*
Your Clear Energy* Go Pack comes with:
• 6 Tespo® Clear Energy* Stick Packs
• 1 Tespo® Go Bottle
For a limited time you may receive an updated version of this product's packaging. Same great product, with a new look.
In order to comply with new FDA regulations, you may also notice a change in the unit of measure and/or daily value for select products.
---
Secure Payment Processing
Lifetime Product Warranty
FloraGLO® is a registered trademark of Kemin Industries, Inc.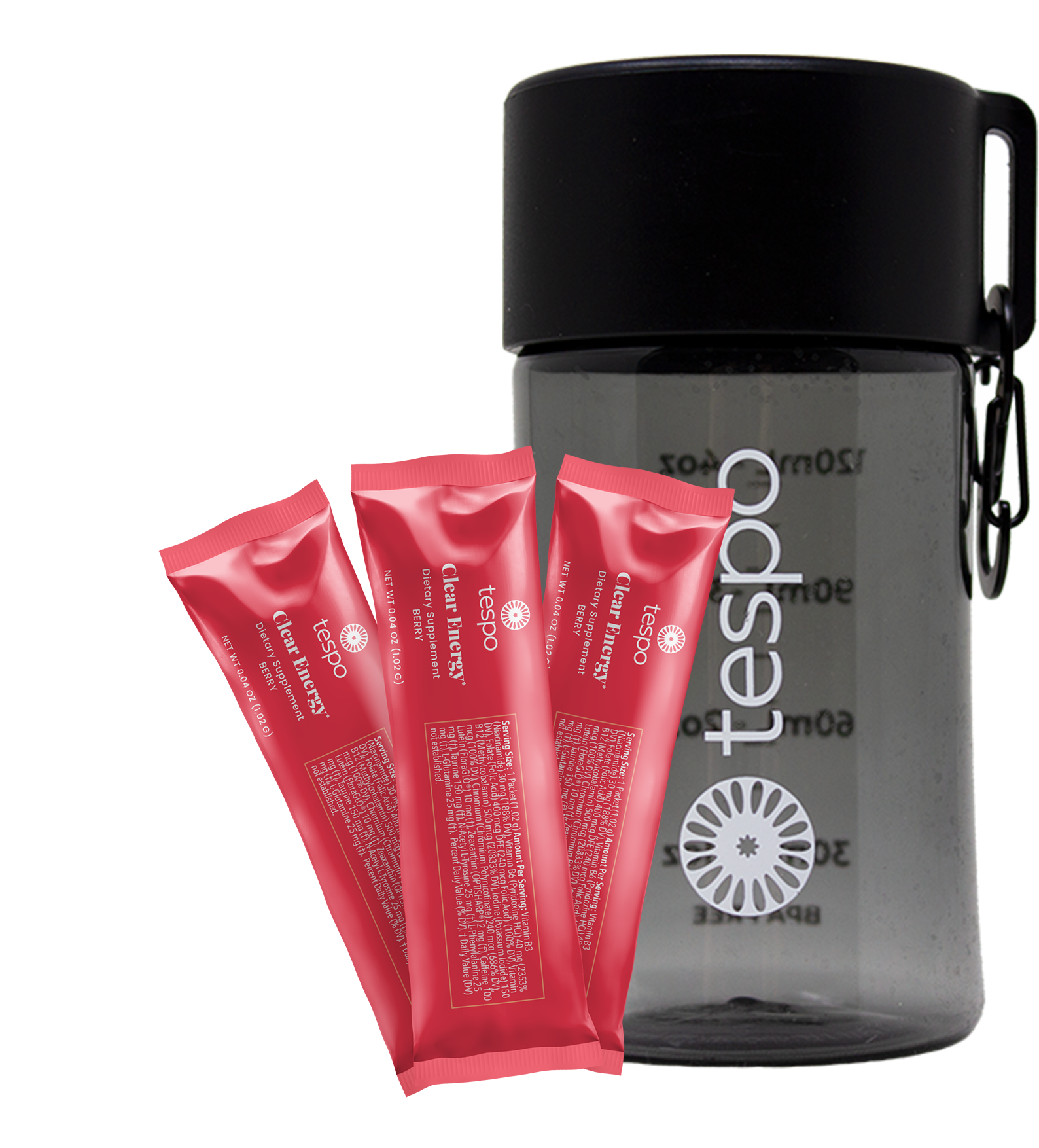 A natural boost of energy and eye support, so you can power through your day and protect your eyes.

Plus, the Tespo® Go Bottle and convenient stick packs make it easy to take your vitamins anytime, anywhere.
Helps maintain healthy vision with aging*
Helps support cognitive flexibility*
More caffeine than an 8oz cup of coffee1
Non-GMO, Allergen-Free, Sugar-Free
Delicious, natural berry flavor
More than 59 cans of tuna.2
Vitamin B12 is a supplement that your body needs, but does not produce on its own. B12 supports bone health, can improve memory, and may improve mood or symptoms of depression.*
More than 12 California avocados3
Niacin plays a role in converting carbohydrates into glucose, metabolizing fats and proteins, and keeping the nervous system working properly. Every part of the body requires this nutrient to function properly.*
More than 12 cups of broccoli flowerets.4
Lutein and Zeaxanthin are carotenoids, best known for protecting the eyes from harmful blue light.*
More than 138 sweet potatoes.5
Vitamin B6, also known as pyridoxine, cannot be produced by the body – so it must be obtained through food or supplementation. This nutrient helps the body convert food into energy, while also playing a major role in brain function and regulating hormones related to mood.*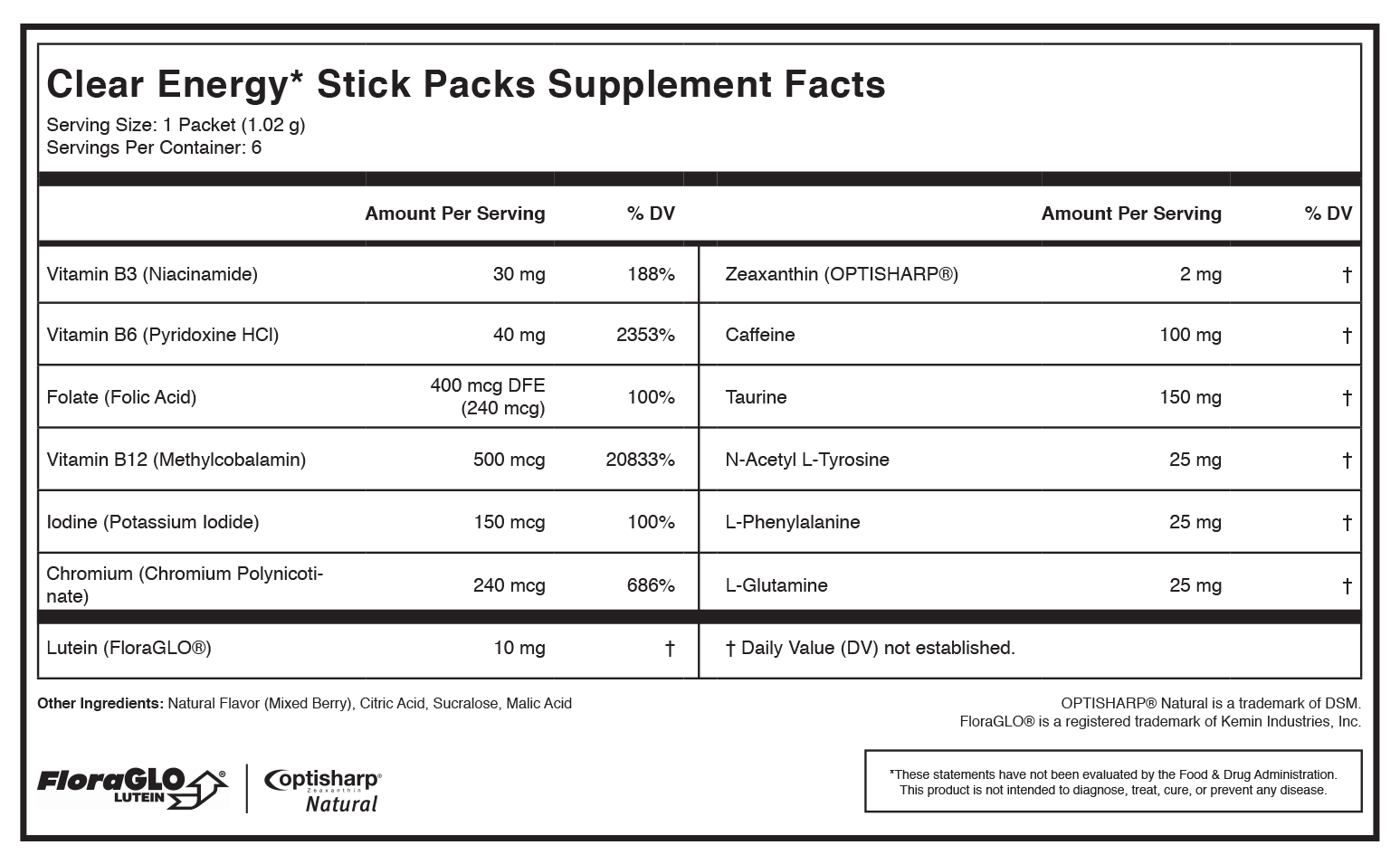 "Good system. It works well. We use it for the whole family.
Don't worry, be healthy. Tespo offers a 30 day risk-free guarantee.
Always Free Shipping
All orders ship FREE and are delivered within 7-10 business days.
Incredibly Easy Returns
Not the right fit? No problem. Simply return within 30 days for a full refund.
Experts On Standby
Questions? Call us and our customer service experts will help you out on your journey.
(1) Based on the USDA.gov nutrient database value for tuna, canned, water pack. (2) Based on the USDA.gov nutrient database value for oranges, raw, Florida. (3) Based on the USDA.gov nutrient database value for almonds, dry roasted, salted. (4) Based on the USDA.gov nutrient database value for milk, fat free (skim).